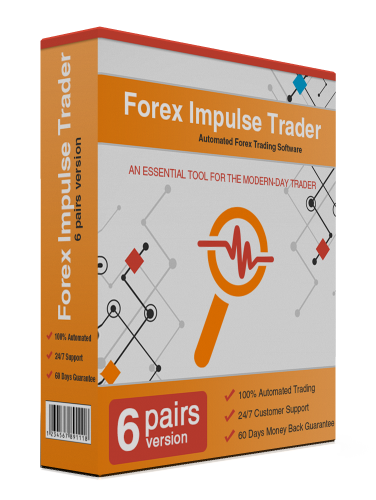 Forex Impulse Trader is an automated forex trading robot (expert advisor). The main idea behind this strategy is to detect the impulse and to open two trades at the same time and in the same direction. There are separate take profits for both trades: FirstTrade_TP and SecondTrade_TP. When the first trade is closed with profit, then the robot sets take profit value to the second trade. The distance is equal to SecondTrade_TP parameter's value (in pips) from the close price of the first trade.
Supported
Currency Pairs

and recommended

time frame
Forex Impulse Trader support 6 (six) currency pairs by default. They are: EURUSD, GBPUSD, EURAUD, USDJPY, USDCHF and EURJPY. The best performing currency pairs are EURUSD and GBPUSD. Forex Impulse Trader can be also used on other currency pairs but the settings of the robot should be optimized and adapted for these currency pairs.
Recommended Time Frame is M15!
Some of the parameters have 0 (zero) as default value. Since the robot supports several currency pairs, we have integrated the optimized values in the robot. The real values can be seen in the information box. If you want to optimize the robot for an unsupported pair, you have to optimize the following parameters: StopLoss, FirstTrade_TP, SecondTrade_TP, TradingHours, ImpulseLenght, SecondStartTrail and SecondTrailStop. Optimize one or max two parameters at the same time for better results.
Recommendations
Our first and most significant recommendation for our customers is to trade with reasonable risk. Such risk is considered reasonable and it will not harm your account balance significantly when a large loss occurs. Depending on the type of the robot and supported currency pairs, our recommendations are different. In this case, a reasonable trading risk is not more than 2%. The second recommendation is for the minimum account balance. For Forex Impulse Trader very recommend to have at least $500 - $1000 account balance. Of course it is recommended to trade with a reasonable risk 1% - 2%. Third recommendation - always test the robot on a demo before you switch to real-money trading. We provide one month trial period for testing on a demo - take advantage of this! If you like the results after this, you may consider using the robot on a real account also.
The GMT offset of your broker is very important and therefore please set it correctly. In case that you do not know how to set correct value for GMT, contact us and we will help you.
Forex Impulse Trader Features
Forex Impulse Trader has the below listed features and many other useful options.
Forex Impulse Trader Backtests
Forex Impulse Trader Buy Or Try Demo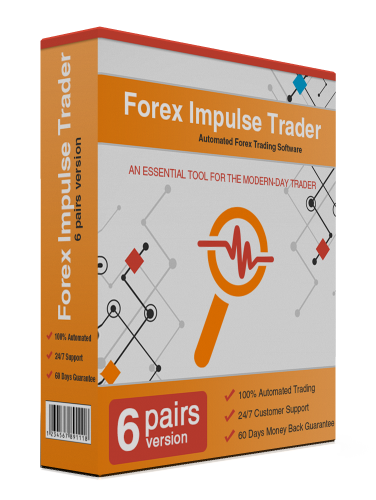 Forex Impulse Trader
$129 $99
Forex Impulse Trader
$129
$99
This is a one-time payment. You will not be required to pay any additional fees in future.
You will be able to trade on 1 real and 2 demo accounts with this license. There is a free option for trying the robot on demo accounts for one month.
Here is a brief summary what we offer with the license:
1 Real and 2 Demo Accounts
24/7 Support
Life-time Updates
60-day Guarantee
Order NOW
or
Try DEMO