We are pleased to inform you that we have a new version (5.1) of the Forex Trend Hunter EA. There are two new things in it. The first and more important is that we have split the EA in 3 parts - each of the 3 supported pairs will have its own EA. We did this because we noticed that some traders do not use the appropriate set files for each pair, which consequently may result in poor performance. With the new version, it will not be necessary to load any set files. For example, you will be able to attach on the EURUSD pair only the EURUSD version of the EA. If you do it otherwise, an error will appear on your screen like this:

Watch out for this error because it may appear only once! It will not stop the EA, so keep your eyes opened where you attach the robot.
The other new thing in this new version is that we have added 2 new parameters - they allow you to adjust the EA trade BUY and SELL positions. You can choose to enable or disable the type of positions to be opened. The new parameters are called Allow_BUY and Allow_SELL. You can check them out in the picture below.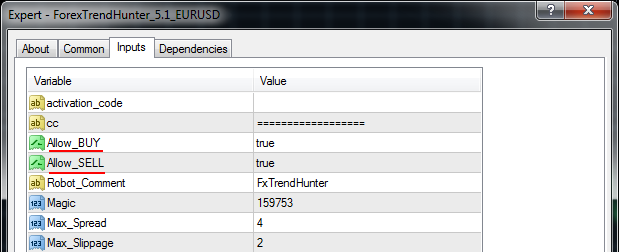 The new version of the EA is available for download in our member area. If there is anything which is unclear, feel free to contact us at any time.
We wish you profitable trading!