By request of our users we have developed a special version of Forex Pulse Detector which is compatible with MAC computers. The robot is 1:1 same with the normal version. It has the same settings and can be activated the same way as the normal version.
You can download the MAC version of Forex Pulse Detector from below link:
https://www.automatedforextools.com/forex_pulse_detector_MAC.zip
This link is for temporary period of time. We will soon add this version officially in the member area. Even our developers will prepare MAC versions for our other forex robots.
Installation instructions:
By clicking the above link you will download and archive whichconatains 4 files. Below you will find detailed instructions how to install each one.
- one indicator CCISmoothed.ex4. It must be placed in the "Terminal Data Folder\MQL4\Indicators" folder
- two versions of Forex Pulse Detector: ForexPulseDetector_v5.4_EURGBP_MAC.ex4 and ForexPulseDetector_v5.4_GBPUSD_MAC.ex4. They must be placed in the "Terminal Data Folder\MQL4\Experts" folder
- a screenshot with MT4 terminal options. Make sure that your MT4 terminal options are same. Add our website address in the "Allow WebRequest for listed URL" exactly as pointed in the screenshot.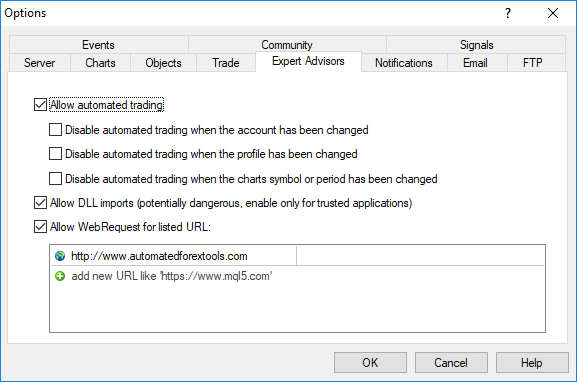 NOTE: To find the Terminal Data Folder go to MT4 terminal "Menu -> File -> Open Data Folder"!
In case that you have any difficulties to install the robot on MAC computer or you have a question comment below or contact us by creating a support ticket.