The new version 5.0 of Dynamic Pro Scalper comes with and advanced Additional Trades System. This system is developed and tested very precisely. The whole idea behind this system is to make Dynamic Pro Scalper very profitable expert advisor (forex robot). We believe that we have done it.
What is the advantage of the Additional Trades System?

The biggest advantage of this system is that it makes Dynamic Pro Scalper less broker dependent. Dynamic Pro Scalper is an Asian session scalper and it trades only during the Asian session. But we all know that during the Asian session some brokers offer high spreads and bad conditions. Thanks to this new system the robot can fight successfully against these bad conditions and close the trades always in profit. When a single trade is impossible to be closed on profit Dynamic Pro Scalper will open additional trade/s to make it possible.
How to use the Additional Trades System?

The Additional Trades System is very flexible. It can be configured and adapted to different scenarios. It can work as:
Simple Grid
Grid & Martingale
Recovery System

We will try to explain in details how you can use this advanced system in all possible ways.
1. Additional Trades System as a Simple Grid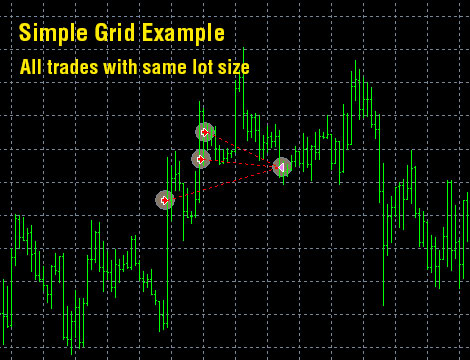 Simple Grid means additional trades opened with X pips distance and same lot size. Usually forex robots open an additional trade when the initial or previous additional trade is negative. Grid based robots close the trades when total profit is equal to Y pips.

By default the Additional Trades System of Dynamic Pro Scalper is a simple grid. But it is disabled. In order to enable this system you have to set Additional_Trades=true. Dynamic Pro Scalper will care for the rest.

To configure the distance between the additional trades you have to change the value of the parameter Add_Trades_Distance. Its value must be in pips. But have in mind that it is not the only condition to open the additional trades. We have added a second condition by special indicator. To enable and disable this second condition use the parameter Open_Add_By_Signal.

NOTE: For some currency pairs enabling or disabling the second condition (Open_Add_By_Signal) could be better. You may test both variants before to set any value.

By default the lot size for the additional trades will same as the initial trade. For simple grid you don't need to make changes in the lot size. However in any case you can control this by the parameter Add_Trades_Lots_Multiplier. If you increase its value the lot size for the additional trades will be higher than the initial trade and vice versa.

2. Additional Trades System as a Grid & Martingale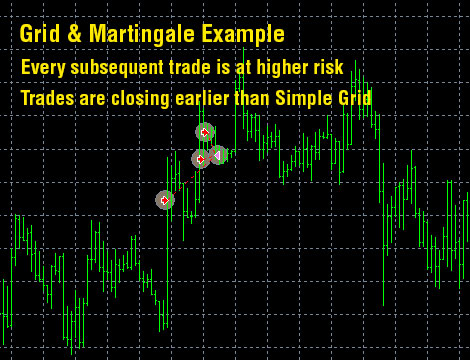 The difference between Simple Grid and Grid & Martingale is only in the lot size of the additional trades. While in the Simple Grid all additional trades have same lot size in Grid & Martingale every next additional trade has bigger and bigger lot size. This can be controlled by two parameters:
Add_Trades_Lots_Multiplier: With this parameter's value you control the lot size of the additional trades. The parameter is a multiplier which means that the lot size of the previous trade will be multiplied with this value in order to get the lot size for the next additional trade.
Add_Trades_Martingale: Set TRUE in order to make Dynamic Pro Scalper Grid & Martingale. When it is TRUE every additional trade will have bigger and bigger lot size calculated by the multiplier Add_Trades_Lots_Multiplier.

It is very complex to calculate the Take Profit value when the Martingale is enabled. Therefore we suggest to use the parameter Take_Profit_Money_With_Adds. Instead using Take Profit in pips we recommend using Take Profit in money (your account base currency). This way it will be better and the trades will be closed quickly in profit equal to Take_Profit_Money_With_Adds value.

3. Additional Trades System as a Recovery System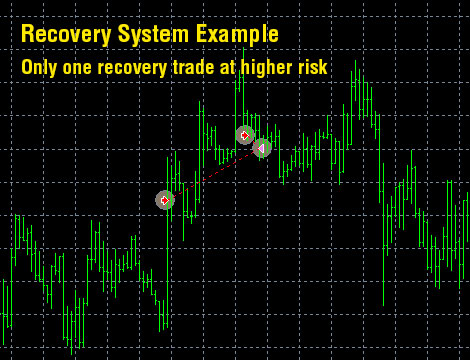 Additional Trades System could be used as a Recovery System with one single recovery trade with higher lot size (risk). We have made some tests on the supported pairs and this work perfectly. The idea is: instead to open several additional trades to open one single trade with high risk and when the total profit of the initial trade and the recovery trade is equal or greater than Take_Profit_Money_With_Adds value to close the trades.
For the Recovery System it is very important to set correctly the distance between the initial trade and the recovery trade. We also recommend to set small value for parameter Take_Profit_Money_With_Adds. This will let Dynamic Pro Scalper to close the trades quickly.
Pay attention also to Add_Trades_Signal_Period prameter. Higher period (time frame) means more accurate results.
More information about Dynamic Pro Scalper you can find on its official page here:

https://www.automatedforextools.com/dynamic-pro-scalper

If you have any questions about Dynamic Pro Scalper's Additional Trades System you can comment below or contact us by creating a support ticket.
We wish a very successful trading to all our users.